Weddings
Weddings are our specialty!!
Elegant and Fun is what a wedding should be.
Couples will often spend thousand of dollars on flowers, food, and other wedding related items and not one guest will remember those items.  They will, however, remember bad entertainment!  FX Entertainment is the right choice for your wedding, with no regrets!
We believe that every wedding is a unique, once in a lifetime, event.  It should reflect our client's love and personality. Our goal is to help you plan your wedding to the last detail, so that when you arrive at the reception you have nothing to do but enjoy it!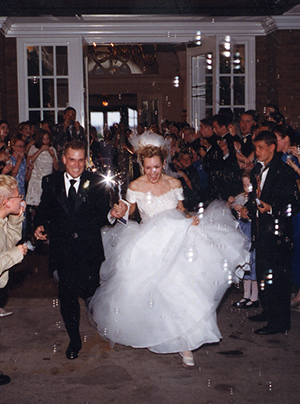 Most wedding celebrations include a very diverse group of people and entertaining them all equally can be a difficult proposition. Walking that thin line between motivating guests to be involved and being overbearing takes skill!  Our DJ's possess the skill, inner qualities, training, and tools to strike that perfect balance.  By appealing to a broad group of people and being experts on all genres of music, our DJs find the common ground that will have the dance floor full all night!
We also work with you to develop a wedding plan that insures a smooth transition between all of the formalities.  We act as a host for your wedding and assist in coordinating the event so your guests are always involved and enjoying themselves.
We provide some of the most talented wedding DJs and wedding bands, in the area.  We also offer the best of both worlds, bands and DJs together for non-stop excitement!  We at FX Entertainment aspire to offer you what we refer to as the four P's: Professionalism, Perfect programming, Pleasant personality, Peace of mind!